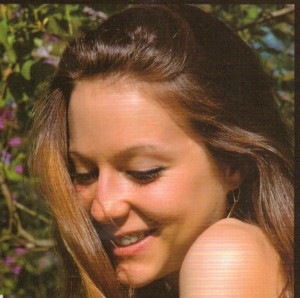 Violette was born in France and started music lessons at the age of six. Later as a teenager, a chance encounter with pianist and artistic director Laurence Apithy marked a crucial turning point in Violette's career, when she first started training as a professional artist. This privileged apprenticeship, spiritual as well as musical, encouraged her to explore the diversity of Afro-American music. In 2007, encouraged by the renowned French violinist, Didier Lockwood, she decided to move to Boston to enroll in the prestigious Berklee College of Music where she studied arranging, songwriting and performance. Soon, she started writing and performing her own songs, and released her first CD Innervoice. Violette is currently living in the US where she recorded and released her second aCD, Joie de Vivre. Past appearances include venues in Paris, Senegal, Boston, New York, St Martin, Prague and Dubai. She has participated in several Jazz Springboards such as Jazz a Vannes and Jazz a Crest and performed for numerous festivals like Jazz a Sete, Violons Croises and Cambridge Make Music. Her resume also includes movie soundtracks & recordings for children and her compositions have been awarded international prizes such as Les Vignes d'Or, Song of the Year, ISSA (Indie Singer Songwriter Association). Through her music, Violette expresses her passion for Afro-American music and culture and her voice is tinged with the diverse influences of jazz, blues, soul & gospel.
Q. When did you become involved with music?
I started studying music at age 6 while living on an island off the west coast of France. I was studying piano and solfege which didn't thrill me at all. I wanted to play the drums, but I guess it was not the most suitable choice for a little girl, so I messed with piano for a few years. Then when I turned 11, my family moved to Paris and I enrolled at the Conservatory to study traditional percussions, solfege and harmony—a typical classical training.
Q. When did you start thinking of singing more seriously?
.At some point, I think I was fifteen or sixteen, I began feeling quite limited by the academic teaching of the Conservatory. In the meantime, I had been singing regularly with a brilliant classical pianist my mom hosted when he came to Paris for competitions. He would accompany me on all kinds of pieces—classical, musicals, R&B and pop songs, and it was always great fun. I approached singing at first as a hobby and then when I decided I wanted to leave the conservatory, I thought let me push this taste that I have for voice so I started studying classical voice—opera singing. I worked on my classical technique for about 2 years, singing Mozart, Scarlatti, and other classical wonders. I really loved it but I began to feel very restricted again because I had to stick to what was written. I remember very clearly one day during a lesson, I was singing a Mozart piece and I started improvising on the melody. My teacher stopped me and said, "You cannot do that. This is Mozart. You cannot add to it. He knew what he was doing." I soon realized I needed more spontaneity, so I kept studying classical technique and started exploring jazz and various Afro-American styles on the side. There, I found the freedom I was really looking for.
Q. When did you decide that you wanted to sing professionally?
It was not an easy decision. I was a serious student, so after graduating from high school, I went to a very exacting college for Liberal Arts. These were very intensive studies—philosophy, math, economy, literature. High school was easy, I was just studying for grades and to reach to the next level but when you enter College, you are not just studying, you're choosing your life path. My first year of college got me soul searching. Besides intense academic classes I was studying with a big mentor of mine—Laurence Apithy, a great artistic director and pianist at the Black Music School in Paris. She's been a very important figure in my life as she basically introduced me to gospel, blues and soul. At some point I really felt torn between academics and music. I figured if I really wanted to be a professional musician, I really had to dedicate myself to it, but was also scared to leave the school path. Finally, at the end of that first college year I clearly felt I was not on the right path, so I discussed it a lot with my parents. They knew I was really unhappy but told me to complete whatever I'd started and then go for what I wanted. So I finished my literature and communication degree in France and then embraced my musical career. I thought I would give myself a few years to see if it was the right choice. I didn't want to wake up at 40 and realize I hadn't given my dreams a chance.
Q. How has the French tradition of popular music affected you?
Ironically, I was never that interested in French music until I came to the United States. Sometimes, you have to be abroad to discover your own culture. When I was in France I listened to a lot of American, Spanish and Portuguese artists, not much French traditional music. But when I started performing in the States, everyone kept asking me for Edith Piaf songs, so I had to learn all these tunes, which kind of brought me peace with my own culture.
Q. You've performed in Europe and you've performed in the US. What are some of the differences and similarities?
I feel the American audience is oftentimes more involved within the performance, probably thanks to the gospel tradition. It's actually pretty cultural: French are usually not as outgoing as Americans.
Q. Do you do your own arranging?
Most of the time, I write the melody, the harmony and the lyrics – then for strings or horns arrangements, I may have a general plan but I usually collaborate with specialists!
Q. Some songs you write in English. Some songs you write in French. How does that differentiation come about? Do you ever switch a song in the middle?
I usually have a very strong intuition when a song comes to me. I have trouble picturing a song in French when it is groove or back beat oriented. As a romance language, I feel French works very well for witty or romantic songs. Maybe it has to do with my education. I've read a lot of French authors and poets where the level of language is quite elaborate…
For instance, you find the word "Baby" in a lot of American songs. It sounds very natural to me in English but I would not use it in French. Set Me Free (and I will stay) is a song I would not feel in my native language. I guess I have a strong old fashioned taste for classical French literature!
Q. What's the most important thing for you when you write a song?
To move people – physically and spiritually. I see music as food for both body and soul, so my goal is to feed listeners' flesh and mind.
Q. What comes first—the words or the music?
Music. I let the melody talk for itself, dictate moods, colors and flow. My keyword is spontaneity. I can be opening my fridge and something strikes me like a riff or I will be walking down the street and hear a melodic idea. Then I usually get a concept for the song. Not necessarily lyrics but a general idea/direction. For instance, I started writing The Tightrope Walker while my cousin was in a coma, dancing at the very edge of life. I felt so anxious and powerless, it was like being at the circus watching someone walking on a rope.
Q. What's most important for you in the lyrics—the story, the rhyme, the images.
Songs like The Tightrope Walker or The Carousel are definitely built on imagery. But rhymes, assonances, alliterations are essential tools – I feel they all complete and support each other. It's like baking a cake. Any misuse of chocolate, flour, eggs or butter ruins the whole piece. So my main concern is to use and balance ingredients cautiously. Sometimes, I like to draw a map of the song, to see where to treat listeners with a rhyme, or where to put in an exception — feed their ear expectation or deceive it. All these decisions make a whole difference.
Q. Do you like the classic songbook? The Gershwin or Berlin songs and their great lyrics?
It's funny that you mention Irving Berlin because he's probably my favorite lyricist. I have his whole lyric book which I often go back to because it's so brilliant. His writing is so concise and precise, his lyrics so poetic, witty and funny.
Q. What were some of the obstacles that you've had to overcome so far in your career?
Ahah. Generally speaking, I would say the main one is definitely fear: Fear of mistakes, fear of being disliked or rejected slow a lot of us down. I certainly can't say I have overcome them, but I try my best not let them dictate my life. On the practical side, leaving the academic world was quite a first challenge: putting my studies aside and going for my dreams was not the safest choice. Then facing all the responsibilities as a band leader is sometimes a bit heavy: managing a group of people, keeping them motivated while getting all the music ready, rehearsing, booking gigs, dealing with performances hitches … the independent musician has to wear many hats! Therefore gathering a supportive, professional team of musicians has been crucial for me.
Q. The music business is a rather sleazy business—how do you deal with club managers and record manufacturers and producers?
I have worked with great club managers, who were very considerate of musicians, but I also have met the worst ones— the kind who cancel a concert a few hours before the show without compensating you. If it was only me, I would be disappointed but I am responsible for the whole band, six people who have made plans and refused other gigs. I feel very fortunate the musicians I work with are still trusting and loyal!
Q. So what drives you?
Joie de Vivre. The most spontaneous and unreligious form of faith. I was raised catholic but I am more of an agnostic. I just love life. Even when I'm down, down in the deepest darkness there is always something left. It's my greatest innate gift. It also comes from my childhood where I received so much love. I like to believe that feeling can't be lost. Independence, creativity and love are the main ingredients to a happy existence.
Q. What do you consider your biggest challenge?
Being true to my feelings. I don't want to fall into the temptation of pleasing or being too sugary. I want to be spontaneous.
Q. How do you cope with failure and success?
I don't even think of failure. Maybe it's my age. But so far, if I haven't achieved what I want to achieve, I just think well, I'm not there yet. It's just not yet done. I totally embrace the myth of Don Giovanni—someone who only looks forward and never back. And that's what I want to be like. I don't want to live in the past. I don't want to lie to myself but I like the dynamic of only looking forward.
Q. Any tips for connecting to the audience?
Didier Lockwood, a great mentor of mine told me charisma is one thing you are born with or not.
Indeed there are tricks to enhance that, but for me it's mostly about being sincere, spontaneous and true. When I'm part of an audience I really don't like to see performers trying to be somebody else. I seek for simplicity and authenticity.
Q. What advice do you have for budding singer/songwriters?
Oh… advise… I don't know, it's such a loner's path, with so many different ways to walk! We all look for different things throughout our careers. Some seek for light & fame, others like calm & shade. Knowing what you really want with your music, writing out a career plan, is, I believe, very important.
If you don't know what you are going for or at least what you do not want,
people will likely impose goals on you. We have seen enough artists losing their heads and souls in that cruel industry. I'm a very DIY (Do It Yourself) person but I've come to collaborate more and more because I learn so much from it. Writing, performing your own material and learning about the music business are also very important because nowadays you have to be able to manage our own career. That's I feel the price and/or passport to freedom.
Q. What music projects are you working on now?
I just released my second album Joie de Vivre a few months ago. It took a little more than a full year to come up with these 12 originals songs. It's been a wonderful journey, working with great people. I'm now rehearsing with the band for upcoming shows. This opus is definitely more produced than the previous one, Innervoice. We are now bringing computers and technology on stage…which is new for me and very interesting. I am also working on videos and visual promotion, basically trying to spread Joy to the maximum!
To check out Violette's music and her website, click on
Violette Music. To return to this website, click on the back arrow in the upper left hand corner of your browser.