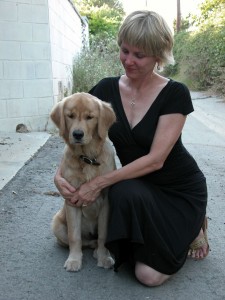 Tracey Porter is the author of Treasures in the Dust, A Dance of Sisters and Billy Creekmore. For the past twenty-five years, she has been a middle school teacher at Crossroads School in Santa Monica, California, where, among other things, she has explored the issues of child labor, children's rights, and the juvenile justice system.
Q. What got you into ballet?
I think I was just one of those little girls who liked to dance and liked to move. I began with tap when I was about 3 and then I took gymnastics and ballet. The real switch in my life came when I was around 12 or 13 and we moved to the Washington DC area where the level of ballet instruction is very high. Before that, I grew up in Ohio where I took lessons at the typical sort of all-purpose studio. Mine was named something like "Joy Cunningham's School of Dance." But in DC I had a very dramatic, passionate teacher who was from Germany and I became much more serious about ballet. Eventually, all the serious dancers in the DC area move to 1 of 2 schools, and I ended up going to the Washington School of Ballet, which was founded by Mary Day. Mary Day was really an outstanding teacher, and I enrolled in the day school there so I could take 3 – 4 hours of ballet a day as well as complete high school. It was a true dance academy modeled after the ones in Russia. We took classes in choreography, dance history, music history, anatomy, art, and, of course, English, French and History. Oh, yes, the other important event in my life that got me into ballet was seeing Margot Fonteyn when I was about 9. And I'm pretty sure her partner was a very young Ivan Nagy. They performed with a little touring company that was making its way across the mid-west. Margot Fonteyn danced La Sylphide and that I'll never forget. I went back stage and got her autograph.
Q. Do you still have it?
I do.
Q. What prompted you to write A Dance of Sisters?
I would say quitting ballet. It was an extremely painful event, and as a writer, I had to deal with that part of my life. I wanted to write a book about a dancer who does not "reach her dreams" because books that center on that are such a cliché. The lives of most dancers are filled with so many compromises, that it's a little more interesting to explore someone who doesn't get there. Also, I'm afraid I had a lot of the dark experiences of ballet that I needed to exorcise, including abusive teachers, eating disorders, public humiliation, cruelty, etc. I wanted to write about some of those things.
Q. How long did it take to write A Dance of Sisters?
I'm a mom and a wife and a full-time teacher. I teach middle school, so I'm not really the most prolific of writers. I would say it took me about three years.
Q. What proportion of time was spent writing versus editing?
I usually write a book from the start to finish and then I send it to my publisher, Joanna Cotler, whom I love. She and her editor, (Justin Chanda was the wonderful editor who helped me with Dance) look at it, then they write me a letter saying this part's great and I don't know if this part's working, think about this, do that, etc. and then, I'm sorry to say, I take up to a year to finish the next draft. I need to do the big work during the summer because during school year when I'm teaching, I'm too busy to write. I can edit, but coming up with brand new stuff isn't easy. After the second time I go through a book, it tends to be in pretty good shape. Because I don't write that much during the school year, I do a lot of writing in my head, so when I actually sit down to write, I don't make too many false starts. But I do need a big revision over a good chunk of time.
Q. Does your ballet training help in writing your books?
Oh, definitely. I think it helps me in everything. Ballet gave me an ear and it gave me the ability to cut out what's unnecessary. That's one of the most beautiful things about classical training. The Vaganova method, which is what Mary Day based her teaching on, is actually very minimal. The training is logical and pure, very beautiful. I think it helped me verge toward the side of classicism versus sentimentality, minimalism versus excess.
Q. In A Dance of Sisters, the book's two major themes seem to be ballet and nature.
I'm so happy to hear you say that. I think I'll just go back to what I believe most about being a trained ballet dancer, which is that it's like being a classical musician. I see in patterns. I count in eights. Lines extend and are balanced. And if they're not—it's not like things must always be balanced—that becomes a decision, an intention. So I think I perceive and compose things through a sensibility that comes from ballet.
Q. In your book, you have two sisters. One is very disciplined, while one is more natural and at the end, there is a synthesis between the two when they take lessons from a Brazilian dancer.
I studied West African and Brazilian dance for several years here in LA. LA is a great place to do that kind of dance because UCLA has such a marvelous cultural anthropology school and because of the recording industry. Top percussionists from all over the world come into town to be guest artists at the school or guest lecturers, and they filter down through the various dance studios here to teach. For a couple of years, there was an amazing candomble priest from a certain favela in Rio named Max Junior. All of the serious drummers and dancers studied with Max and followed him from one studio to another all over town. I actually performed with him a couple of times, as he always needed background dancers for various gigs, such as a huge party to celebrate Varig Airlines. I based the character of Meia Noce on him. I had a complete blast with him, and I met my husband in his class who was one of his drummers. As a ballet dancer who stopped at eighteen and didn't get her name on a company contract, I greatly valued these classes and experiences. Brazilian and African dance is based on spirituality and the joy of being alive, of having a body. It helped heal the part of my heart that broke when I quit ballet. When I found these classes in my thirties here in Los Angeles, it was like being a young ballet dancer again. The classes were serious, beautiful and authentic. Something intangible was being passed down from one dancer to another, just like in Mary Day's classes because her teacher had been one of Pavlova's dancers.
Q. Are there any more books about dance in you?
The book I'm writing now is set in Washington DC and I think some of the characters in it are going to go to the same ballet school that Delia attends. Sometimes I think that ballet school is going to be an idée fixe in my books set in DC. I love ballet and it's so beautiful and vast that I could write a lot more about it. But A Dance of Sisters was really my story. So, I won't explore that territory again but there are many aspects of ballet and dance that I still want to write about.
Q. What part of your writing comes quickest?
Characters and settings. Plot is hard for me. I don't feel particularly talented at that. It's hard for me.
Q. Does your job as a teacher help you write?
Teaching is so in the moment. It's so vital and alive that it's very inspiring. It keeps me young. I really enjoy it. I teach 12 and 13 year olds and I get a big kick out of them. I like writing for people this age. I'm happy to be doing it.
Q. Do you write an outline first?
For every book that I've written—I've published three so far and I'm working on my fourth—I start out knowing the beginning, the middle and the end. How exactly the story transfers through the intricacies of character, tone and language, and how to make the story vital are all pretty challenging to me. But I do have a loose outline, yes. And when I know the type of book it's going to be—if it's going to be like a Dickens novel with cliff hanger last sentences and chapters and titles, then outlines are very helpful.
Q. Before you start, do you write out biographical sketches for each character?
No. I do that in my head. That's because I am a working wife and mother with very little time in my life. If I didn't have a full time job, I might do that. I do a lot of writing in my head when I'm running errands, standing in line at the grocery store, so I complete bio sketches, but I do so mentally.
Q. Did anything about the two sisters surprise you? Did one or both take you on her own journey?
Pearl surprised me. I didn't know she would get as far out there as she did. In many ways, Delia was more familiar to me I don't know that she surprised me that much. Her story is pretty close to my own.
Q. In the dance school, you have two characters who I don't think ever speak. You call them the anorexics. They are funny, yet very sad. How did they come about?
I thought of them like a silent chorus. I knew so many girls like them at the different studios where I would go every now and then and take classes when I was at college. There were always 2 or 3 anorexic girls who barely talked but they were intensely bound together, probably by their obsession, their bizarre competition with each other, and their life denying activities. It was very, very, very sad. In the 70's these eating disorders were only just beginning to be diagnosed. We had girls at my school who were hospitalized, who were going to die if they caught a virus, and they were in class every day before and after they were hospitalized. Back then parents and teachers didn't know what to do. The irony was there was almost this weird dance going on between the teachers and the mothers in which the girls were somehow rewarded for this. I remember skeletal girls who could barely take a pointe class because they were so thin getting soloist roles in productions. Things are different now. If a girl becomes anemic or drops below a healthy weight, she's banned from class. That wasn't happening when I was a dancer.
Q. Do you write on a computer?
Yes. I love it.
Q. Do you think things like spell checkers and grammar checkers influence your writing in any way?
I turn off the word preferences and the grammar checker. My last book had a lot of dialect and I even shut off the spell checker. I read my work aloud to myself as I write and edit as I go. Plus, I've been a teacher for 25 years now and I'm pretty good at editing and correcting text. I suggest writers turn off the spell and grammar checkers and develop their voice instead.
Q. Your most recently published book is called, Billy Creekmore. What's that about?
Billy Creekmore is totally different from A Dance of Sisters! It's written from the first person about a ten-year-old boy. It's historical fiction like my first book, Treasures in the Dust. I wanted to give myself the task of writing a strongly plotted book, and I also wanted to write a book that was anti-child labor. It's an issue I'm following in the paper and the media, and in my teaching. It's a focus of some of the work I do in the classroom. Billy Creekmore is about a boy growing up in West Virginia at the turn of the twentieth century before World War I. He's sent to an orphanage shortly after birth and he eventually ends up in the coal mines in West Virginia. It's very different. Ain't no ballet in the coal mines. I did tons of research, which I love. It's much easier than writing. I had fun researching A Dance of Sisters, too. One of my students at the time was a very beautiful dancer at the Westside School of Ballet, which is a very, very good ballet school here in LA. The director Yvonne Mounsey was, I believe the original siren in Balanchine's Prodigal Son. When they staged Serenade, I got permission to watch some of the rehearsals, and, of course, I saw the performance. Any way, I love research. One of the things I love about being a writer is that I get to do research.