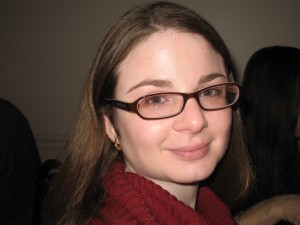 Jane grew up in Brooklyn, New York, went to High School on Cape Cod, and now lives and works in her house in the historic district of Holliston, Massachusetts. She loves knowing that her house was built in 1871, making it the new kid on the block. She lives with her husband Michael and their black cat, Ruby.
Jane graduated from Brandeis University with a degree in English and Creative Writing and from Harvard Divinity School with a Master's Degree in Theological Studies. Though not all of what she's studied makes an appearance in her work (no Biblical Hebrew yet . . . .), the habits of creative thought and curiosity she developed in school help her every day. She has worked as a Jewish educator, a children's room library assistant, a writing teacher, and a children's bookseller and organizer of author events. She is represented by The Prospect Agency (www.prospectagency.com).
Jane's first two books, Ducks Go Vroom and Estie The Mensch will be published by Random House Children's Books in 2011.
Q. How did you get started in writing?
I started writing stories as soon as I was able to write on my own, which would have been in kindergarten or first grade. I created a number of picture books, which I both wrote and illustrated, and which my mother has held on to. It's been very interesting as a picture book writer to be able to look back at what I did when I was still in the target picture book age group. I remember, regarding those efforts, that I was never really satisfied with either the story (I had trouble coming up with exciting plots) or with the art work. I dreamed of making something that looked like a "real book."
I was lucky to be in an elementary school program that emphasized creativity and independent work. We did a lot of creative writing, and in third grade my friends and I even formed a writer's club. I wrote all through school, eventually switching primarily to writing poetry. I attended Brandeis University, which had a small creative program that accepted majors by application only. The small number of students in the program meant we received extensive attention from our advisors and were able to attend small intensive advanced-level workshops. Being in that program gave me the first taste of what it might be like to write as a primary occupation.
During my summers and vacations in college I worked at Eight Cousins Children's Bookstore on Cape Cod, where my parents live, and after I graduated I worked in the children's room of the Waltham Public Library. I had never felt like I'd "outgrown" children's books, and now my jobs required that I begin reading them again. Gradually my writing switched from poetry to picture book manuscripts, which I don't really feel was a particularly huge leap. The length of a picture book requires the same close attention to language and lyricism required in a poem. The main change is the need for a plot, which is still a challenge for me!
Q. What are some of the things you have done in your writing career thus far?
When I decided to approach writing for children seriously, the two best things I did were join The Society of Children's Book Writers and Illustrators and join a critique group (which I found through the SCBWI website). I was immensely fortunate to find a group of writers who are serious about becoming professionals in the field. As a group we include teachers, editors, and holders of degrees in both creative writing and children's literature. We've been meeting twice a month for two and a half years and each person has their work critiqued once a month. We get together for writing sessions in cafes and travel to conferences together. We also throw some parties.
We've had good reasons to celebrate, including the winning of grants and prizes and my selling two books. 2009 was a banner year for me. I received a book contract (almost a year later!) from a Random House editor I met at a critique session during my first SCBWI conference. I then found an agent, who sold a second manuscript to the same editor. Both books will come out in 2011. The first, Ducks Go Vroom, began as a picture book manuscript and became an early reader. The second, Estie The Mensch, is a picture book.
Q. What are some of the satisfying experiences you have had as a writer?
I would have to put receiving the phone calls about the sales of my books at the top of the list. I imagine seeing the finished books will trump that! But I've also had very satisfying moments during the process of writing, when I've produced something that I'm pleased with — from a turn of phrase to a finished story.
Q. What does your desk/workspace look like?
I recently made over a tiny bedroom my husband and I were using for book storage into my own office (we'd had a shared office space downstairs). Now I have a dedicated place to work and to keep my writing-related "stuff" — children's books, books on writing, files for my manuscripts etc. I have a big desk and a comfy armchair for quality reading time.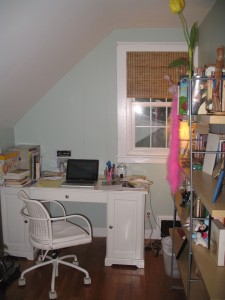 Q. How do you approach writing a picture book? Do you storyboard it? Do you imagine the pictures? Do you aim for a certain word count?
I start with an idea. Usually this consists only of a phrase or image I like. Ducks Go Vroom started with the title. I liked the idea of ducks making an incongruous non-duck like noise rather than doing the usual quacking. I have a notebook and pads I keep in my purse and by my bed where I can jot down things that come to mind. Anything can spark a story idea. I'll then pick one idea to mull for a while, playing around with it in my mind, working on envisioning a plot and characters. It's only after a while of this that I'll start the actual writing. I don't storyboard initially, I just focus on language, always keeping in mind what work the pictures will do and what work the words will do and how they'll complement each other. Sometimes I will storyboard or divide into pages afterward to help me structure the story better. In terms of word count, I aim for as short as I can get! This helps me hone the language. It's also harder to sell longer picture books.
Q. You worked in a bookstore. How did that influence your writing? What valuable lessons did you learn regarding picture books and children's book literature in general?
I've worked as a children's bookseller at both Eight Cousins Children's Bookstore in Falmouth, MA and at Wellesley Booksmith in Wellesley, MA, both dynamic independent booksellers that emphasize customer service. To work in these places you really have to know your field and keep current. One of the most important ways you learn to write is by reading reading reading, so having to read constantly for my jobs has certainly strengthened my writing. Stores, as opposed to libraries, also focus more on what's new, so that's let me see what's being published and what's selling now, which is helpful when I decide which projects to pursue.
I've also learned, however, that perhaps more than in any other field, the classic reigns in literature for the very young. Older kids can pick out their own books, but the littlest readers always have an adult mediating for them. Grown-ups want to buy as gifts the books they loved as children. The creation of a new picture book "classic" is very very hard, but it does happen and it happens because of quality of writing and illustration, not because of trend-following or celebrity authorship. It can also really help to have independent booksellers who are enthusiastic about your book. They spread the word about small gems that get overlooked at big chains.
Q. You studied at Brandeis and then went to Harvard Divinity School. How did that influence your writing?
I talked a little about Brandeis earlier. I'll say here that the classes in the creative writing program at Brandeis (as well as my work on a literary magazine that ran weekly student-run writing workshops) immersed me in an environment where I was working all the time on the craft of language. It helped me to see words as an artistic medium like paint or charcoal, which you have to learn to manipulate with skill.
The work I did at Harvard Divinity School has influenced my children's writing less directly, but it addressed many of the "big" questions about life and existence which are at the core of writing. One of the things writing is for me is a way to explore meaning in the world. My stories aren't always what you might immediately consider "deep," but I find meaning in laughter and the joys of language. I do hope to one day work on a project that incorporates some of the Jewish history I studied.
Q. Do you have any writing mentors?
My undergraduate advisor, the poet Olga Broumas, was a very important mentor for me. At the moment I have very productive peer relationships with other writers, but not one that fits into the mentor/mentee mold.
Q. How did you find the illustrators for your picture books? Did you find them? Did your publisher? Did you have any hand in the choice? Did you have any hand in the illustrations?
My publisher, Random House Children's Books, found the illustrator for Ducks Go Vroom and will also pick the illustrator for Estie The Mensch. My editor sent me samples of Viviana Garofoli's art (she is the illustrator of Ducks Go Vroom) when they were in the process of making the decision about whether to hire her. I was able to offer an opinion but I had no official vote. As the sketches for the book came in, my editor also asked for my feedback, which she incorporated with hers and passed on to the Art Director. For Ducks much of the action is not spelled out in the text, so I also included an art note with the manuscript so the illustrator would know what was happening! I had no say in what the characters would look like, but in a very eerie and wonderful coincidence, Viviana ended up drawing the ducks wearing outfits that matched those in the sketches I'd created when I was getting to know my characters. (Below is one of the author's sketches.)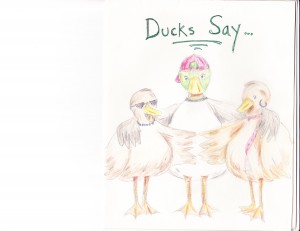 Q. What writers do you like?
When I'm asked questions like this my list very quickly gets out of hand. So I'll stick to picture book and early reader authors knowing that I'm likely leaving out many I'll later wish I'd included. Some of my favorites, in no particular order, are Kevin Henkes, Arnold Lobel, James Marshall, Laura Vaccaro Seeger, Maurice Sendak, Marla Frazee, Liz Garton Scanlon, Mo Willems, Elise Broach, Mary Ann Hoberman, Mem Fox, Russell Hoban, Joyce Sidman, Mary Amato, Jane O'Connor, Sarah Stewart, Gene Zion, and Cynthia Rylant.
Q. What's the story of how you first got published and did you have a literary agent first?
I attended the annual New England SCBWI conference in spring 2008, where I signed up to have my manuscript critiqued by an editor. I was assigned to Random House editor Christy Webster, who works on the Step Into Reading early reader series. She saw in Ducks Go Vroom the potential for a Step 1 reader — and they happened to be looking at the time for one about ducks! She asked me to send her the manuscript, but it was ten months before I received a phone call from Christy asking if the manuscript was still available, because they'd like to publish it. It was! I did not have a literary agent at the time, so going over the contract was a bit daunting. Fortunately I have a father-in-law who spent decades as an editor and publisher who read it for me and gave me advice. I had been querying agents all along and after I got my contract I sent on the news to an agency which had already requested to see more of my work. This agency (The Prospect Agency) ended up taking me on as a client.
Q. How did you feel when you held your first published book?
Only two days ago a package arrived from my editor with F&Gs (galleys) of Ducks Go Vroom. It feels both odd and natural to finally have a physical object to hold, since I've been living with the story for so long. I am VERY excited, however, about getting to hold the finished copies of the books and to see them in stores and libraries.
Q. What is your working life like as a writer?
Until recently I'd been working a little more than half-time at Wellesley Booksmith, so my writing life was crammed in where I could fit it. My husband and I recently made the decision that I would concentrate on writing full-time for the moment, so I've been trying to establish some kind of routine. I created a home office and I've started working sometimes in cafes. I'm still trying to really get a rhythm down.
Q. How much do you collaborate with your editors?
I've worked with the same editor so far on both of my books. For Ducks Go Vroom we had to create language patterns that fit the strict Step Into Reading guidelines, and Christy offered a lot of helpful suggestions and feedback — so while the story line and characters remained the same as when I submitted the manuscript, transforming Ducks into a Step Into Reading title was very much a collaborative process. With Estie The Mensch, Christy sent me some very helpful suggestions and I ran with them. Again, the story retained its plot and characters and much of its original language, but my work with Christy helped make it a stronger text with a more satisfying ending. (At least I think so!)
Q. The book business is a slow business. What's been the timeline and the major events as your picture book gets closer to publication?
Major events have included the editing stage, the choice of an illustrator, seeing the first sketches and final art, and receiving the F&Gs. My first book was accepted for publication in February 2009 and will be out in February 2011, the second was accepted in November 2009 and will be out in the fall of 2011. So, as you can see, the timeline for all these things to happen is about two years.
Q. What were the challenges in bringing your books to life?
Perseverance has been a great challenge. I wrote the first draft of Ducks Go Vroom in 2005, while I was working full-time as a Jewish educator. It's hard to make time to write when you're busy with other things. It takes a long time to practice your craft and to learn about the publishing business, and you have to stay optimistic and not give up. Most of my other challenges are also those shared by other authors — the challenges of creating compelling characters, a plot that keeps the story moving, and language that makes your story stand out. I've had the added challenge of dealing with a chronic illness (Ehlers-Danlos Syndrome, a connective tissue disorder), which sometimes makes me too ill to work or write. These times are frustrating, but I focus on perseverance and my love of the work.
Q. How many drafts do you do?
I lose track. Is it a new draft when you change one line, two lines, three lines? All I know is that all of my stories go through many rounds of revision.
Q. Did the book change much when the illustrations were added?
Viviana Garofoli's illustrations make Ducks Go Vroom complete. A picture book is a form in which both text and pictures are integral, so the book grew and blossomed when it was illustrated.
Q. What are your secrets to being a good writer?
I have no secrets. Things that I believe are important for the development of good writing are a passion for books and language, perseverance, and a willingness to listen to and use constructive criticism.
Q. What advice do you have to give new writers?
I don't think I have anything original to say here! Read all the time both in your genre and out of it. Write whenever you can. Write down all your ideas even if they are only a word or two. They could become a story years later.
Q. What is your next project?
I have a couple of picture books out on submission and I'm always working on new picture book manuscripts. I'm also working on a young middle grade novel. I'm very excited about working in a longer form.
To check out Jane Kohuth's Facebook page, click on her highlighted name. To return, click on the back arrow in the upper left hand corner of your browser: Jane Kohuth
To check out Jane's book Ducks Go Vroom on Amazon, click on the highlighted Ducks Go Vroom. To return, click on the back arrow in the upper left hand corner of your browser: Ducks Go Vroom
To check out Jane's book Ducks Go Vroom on IndieBound, click on the highlighted Ducks Go Vroom. To return, click on the back arrow in the upper left hand corner of your browser: Ducks Go Vroom
To check out Jane's website, click on the highlighted Jane Kohuth. To return, click on the back arrow in the upper left hand corner of your browser: Jane Kouth