Welcome to my website. Besides letting you know about my own books, what I've decided to do with all this space is put in some of the movies, books and poetry I like and recommend, as well as interviews with authors and others, quotes on creativity and spirituality and whatever else interests me at the moment.
I'm a big movie fan, particularly of movies from the thirties and forties. I know lots of people are looking for movies that the whole family can watch–good movies, not shlock–so if you fall into that category, you've come to the right place. Just about every movie I
list falls into that category and there are lots of great ones.
As for books, I'm hooked on audio books. A few years ago I discovered I was running out of time to read and here I am a writer. I knew there was such a thing as audio books but, initially, I resisted. Somehow, it seemed like cheating. Then, I said to myself, all books are narratives. Every writer uses a voice to tell the story. Even in non-fiction, someone is speaking. So, I gave an audio book a shot and am I glad I did. A good book read by a good reader is an incredible experience. It's like a movie, only where most movies ruin the book, an audio book is the book.
The bane of my audio book existence are authors who think they can read their own books. They can't. They might read well for libraries or book clubs or book stores but it's like amateur musicians, trying to perform with the Boston Symphony. They make fools of themselves and their books. Oddly, famous actors with a few exceptions (Anne Hathaway, Evan Rachel Wood, John Ritter) are also bad. Somehow, their acting skills don't translate well; good readers require a skill set that is unique to reading a book: adapting their voice to the "book's voice," finding the right accents for the characters and using the appropriate level of emotion and tone for what's going on. One other oddity of book reading—women often make better readers than men because it's easier for a woman to sound like a man than it is for a man to sound like a woman. As you can see, I'm into it….
As for poetry, I'm just putting in what I like with a heavy emphasis on poems written before 1925 because anything written before 1925 is, by and large, copyright free.
The interviews I've done and will continue to do are with people I'm interested in talking to and who I feel have something to say, mainly in the areas of the arts, creativity and maybe even some spiritual stuff. We'll see.
I hope you find something of interest here and, please, visit again.
Below is my latest book….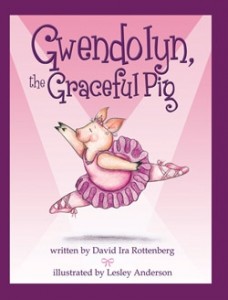 Gwendolyn, the Graceful Pig
tells of two best friends with big dreams. Gwendolyn longs to dance. Omar wants to join the football team. But there's a problem–they're both pigs! Will Natasha Levertov, "the greatest teacher of dance in ze vorld," help their dreams come true? Charming illustrations and text make this story a hit with girls and boys. Not just for aspiring dancers, the book shows children the joy of pursuing what they love.